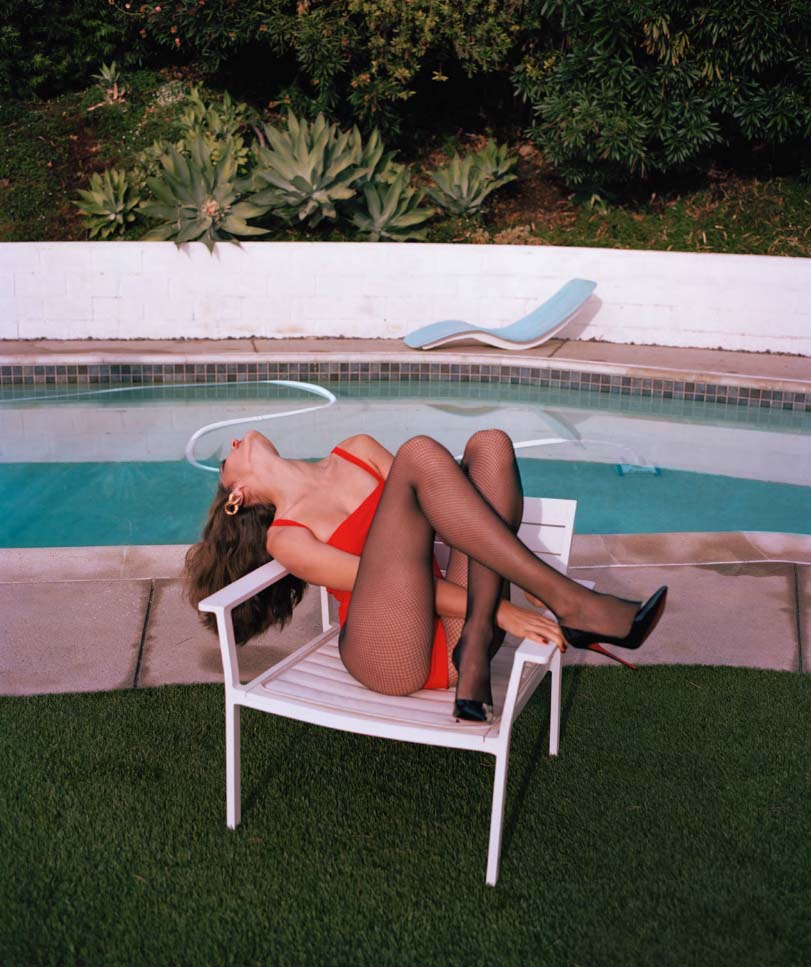 STORIES
BEHIND THE EDITORIAL
Self Service Magazine Issue No.48
For issue 48 of Self Service Magazine, I had the pleasure to travel to L.A. to work with one of my favorite teams, Photographer Dan Martensen, Stylist Clare Richardson, Makeup artist Sally Branka and Set Designer Maxim Jezek. And last but not least, of course the three super duper models Jessica Miller, Othilia Simon and Luna Bijl.
In our first of a new series entitled "Behind the Editorial" I have posed a few questions to key members of the team behind the shoot. Check their impressive bio's at the end of each Q&A.

Photography Dan Martensen
Styling Clare Richardson
Set design Maximus Jezek
Make up Sally Branka
Hair Cim Mahony

Models:
Othilia Simon
Luna Bijl
Jessica Miller
STORIES
BEHIND THE EDITORIAL
Meet Photographer Dan Martensen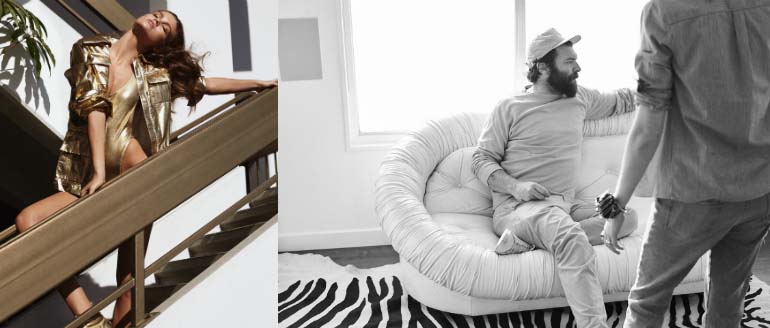 First up is Dan Martensen, who is not only one of the leading Fashion Photographers on the planet, but also a native New Yorker and a true gentleman.
FOR THE SELF SERVICE STORY WE TRAVELLED TO LOS ANGELES. AS A BORN AND BRED NEW YORKER, CAN YOU DESCRIBE YOUR RELATIONSHIP WITH L.A. AND THE IMPACT IT HAS HAD ON YOU?
Actually, I have quite a close relationship to LA. My parents are both from Hollywood, my uncles, aunts and cousins live in LA and my childhood memories include yearly trips to LA. So, in that way much of my experience is from this point of view - not as a fashion photographer necessarily but as a local of sorts. My family isn't fancy Hollywood, so my experiences there are simpler, like going to the countryside, not glamour or fashion. I do love LA. I love its depth beyond the palm trees and sports cars, but I also LOVE the palm trees and the sports cars. I think it's a perfect caricature of America's manifest destiny, it is "over the top" and not the way of a New Yorker, but it's still fascinating. The architecture, the lifestyle, the food, the diversity.
I LOVE YOUR POLITICAL COMMENTARIES ON INSTAGRAM. HOW DO YOU THINK THE CURRENT POLITICAL CLIMATE IS AFFECTING AMERICAN CULTURE, CREATIVITY AND ARTS?
First, let me say I am flattered that anyone actually takes time to realize my stories on Instagram have a meaning but really, it's all connected. The arts, culture, creativity, it all thrive on real life. Nothing comes from nothing, everything has a beginning and a meaning from something that is real. Without spending 4000 words describing why I think things are messed up in America right now, let me say, that it is the artists that will make sense of the politics, the talking heads on TV and the endless articles written, and translate the meaning into music, photographs, poems, and images that we all can understand. You can rant about left vs right all day and yet, one thing still connects us. Like when you see a child torn from her family, no political affiliation can deny the humanity that a photograph or a song can portray. This is human, art and culture taking the temperature of the human condition. Without them we lose our souls.
WHEN SHOOTING YOU SWITCH BETWEEN ANALOGUE AND DIGITAL FORMATS EFFORTLESSLY, PLEASE DESCRIBE THE DIFFERENCE AND WHAT YOU LOVE ABOUT EACH ONE?
This can easily become a romantic diatribe, so I will simplify the best I can. a) Film looks better. Honestly. That's all. b) When you shoot film, you can't sit around analyzing the image. It's not born yet. It's incubating in the roll of film. You have to trust you have it, or you don't. If you spend your entire day staring at a computer screen you are much more likely to miss something happening that you'd like to be photographing. When you shoot film you (and the entire team around you) spend no time analyzing and more time creating. Analyze later, be creative, trust your instincts, experience what is happening in the photo instead of focusing on the composition and light. It makes all the difference. c) Film still really looks way better!
WHAT DEFINES BEAUTY TO YOU?
For me beauty is only half physical, the rest is just about attitude. Health is beauty. Cleverness is beauty. Brown hair, blonde, light skin, dark skin, and everything in between, it's all beautiful if it's healthy. The rest is attitude, and nothing is more beautiful in attitude than authenticity, smarts and confidence. It's misleading to think that beauty only exists in the physical form. It's everything all together.
DAN MARTENSEN BIO
Dan Martensen's fashion and portrait photographs have an aesthetic of natural beauty. Often photographing on location and in rural environments, Martensen's relaxed and collaborative approach creates images of genuine ease and spontaneity. Martensen studied photography at the Rhode Island School of Design and brings the qualities of an observational photographer—finding meaning within the scenarios that unfold in front of his camera—to his commercial work. With his clear talent for framing the experience of his encounters with his subjects, Martensen is a regular editorial contributor to magazines including i-D, Self Service, Vogue Paris, The Last Magazine, WSJ, and German Vogue. His commercial clients include Mango, Zara, Cole Haan, Maybelline, Esprit, H&M, Alexander Wang, Michael Kors, Mugler, Nike, Prabal Gurung, Theory, Vans, Vince and David Yurman. Since the early 2000s, Dan Martensen has been traveling and photographing across America and principally in the States of the Southwest. Martensen seeks out the visual paradoxes and embedded histories of the region, taking cues and his creative departure from the work of the legendary chroniclers of the American vernacular; William Eggleston, Joel Sternfeld and Stephen Shore. A selection of sixty photographs from this project is published in Martensen's book Photographs from the American Southwest, designed by Berger + Wild. Martensen's five-year photographic collaboration with the seven Angulo siblings—the subjects of Crystal Moselle's feature-length documentary film The Wolfpack—was published in fall 2015 and designed by Dean Langley.
Go follow his work on Instagram @danmartensen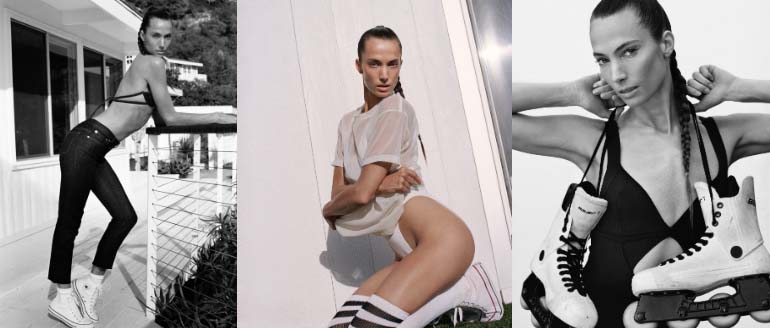 STORIES
BEHIND THE EDITORIAL
I also spoke with the compelling French beauty, model Othilia Simon, who is always an inspiration to work with.
IT IS ALWAYS SUCH A PLEASURE TO WORK WITH YOU ON SET AS YOU BRING NOT ONLY BEAUTY, BUT ALSO INTELLIGENCE AND HUMOR. WHERE DO YOU KEEP YOURSELF INFORMED ABOUT WHAT GOES ON IN THE WORLD?
Thank you for the kind words. I think by talking with people and by watching the news.
WHAT PART OF YOUR JOB DO YOU FIND THE MOST SATISFYING?
Creating pictures and thinking that those pictures will stay forever and will actually date our era and make history. It's quite something. Travelling and meeting new people every day is a real fortune.
WHAT IS YOUR FAVORITE PLACE TO TAKE TIME OFF AND WHY?
I like Spain a lot because I have been going there since I was a child, but otherwise mostly home with family or friends because it is where I feel the most secure and comfortable.
OTHILIA SIMON BIO
Othilia Simon is a French model born in 1992. She had her modelling debut in 2009 at New York Fashion Week and has since walked for Fendi, Loewe, Chanel, Hermès, Tom Ford, Balmain, Kenzo – and the list goes on. The intriguing French beauty has an impressing resume, being the face of Frame, Vogue Germany and Vogue Mexico and also starring editorials in Vogue Japan, Vogue Mexico, Porter, Frame, Vogue Paris and Vogue Germany – all in 2018 alone.

Go follow her work on Instagram @othiliasimon
STORIES
BEHIND THE EDITORIAL
Meet Makeup Artist Sally Branka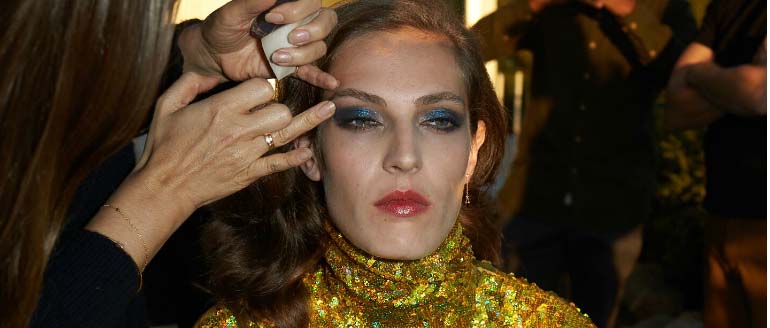 Over the years I have worked with so many talented creatives, many of these of course being Makeup Artists, but not many are as talented and distinguished as Sally Branka.
LATELY WE HAVE BEEN WORKING AND TRAVELING TOGETHER A LOT. SOMETHING I ENJOY IMMENSELY, NOT ONLY BECAUSE I CONSIDER YOU ONE OF THE BEST MAKEUP ARTISTS IN THE WORLD, BUT ALSO BECAUSE I VALUE YOUR HUMOR, AESTHETICS AND OUR CONVERSATIONS ABOUT LIFE IN GENERAL. I KNOW THAT YOU STARTED YOUR CAREER AS A BEAUTICIAN. HAS WORKING WITH SKIN FROM THE BEGINNING HAD AN INFLUENCE ON HOW YOU DO MAKEUP?
100%, as I celebrate people who look after their skin, not only with products but with personal wellness. When applying makeup, I love the challenge of using concealers lightly to create perfect looking skin whilst retaining the natural texture. I am almost neurotic about it. I love to keep a sense of reality to my work and I believe that by doing this, it gives a sense of personality. One thing I carry from my beauty therapy days, is that I prep the skin with a lymph drainage massage to liven the skin from within rather than masking it. By doing this I can help eliminate dark circles from under the eyes instead of applying a lot of heavy concealer.
FOR THIS SELF SERVICE SHOOT WE TRAVELLED TO LA, YOU BEING A BRIT LIVING IN NYC, WHAT IS YOUR RELATIONSHIP WITH THE US?
Well I have a wonderful relationship with a New Yorker. Haha! Jokes aside, New York has a vibrancy and energy like none other but London will always have my heart.
WHAT IS YOUR OPINION ON THE MOVEMENT THAT IS HAPPENING TOWARDS CLEANER BEAUTY?
I love it, it is not only good for your skin but also for ethical and sustainable reasons. Coming from a skincare background it is important to understand the harmful ingredients within your products, such as parabens and microbeads. What is key in all of this, I believe is education! This is where social media has had a big influence in the awareness. It is now easier to find natural alternatives that deliver the same results whilst still feeling like you have purchased that "wonder product".
THERE SEEMS TO BE A SLOW SHIFT TOWARDS MAKEUP AND HAIR BECOMING MORE "DONE" AGAIN. IS THIS A WELCOME FASHION MOMENT FOR YOU? AND WHERE DO YOU PULL YOUR MAIN REFERENCES FROM TO CREATE THE MORE ELABORATE 2018 LOOK?
Absolutely, my job as a makeup artist involves creating a look, a fantasy, so to experiment with new ideas is exciting. I am constantly on the hunt for references. I google one thing, go down a "rabbit hole" and end up with an amazing reference I did not expect. Environment and nature are also a big thing for me. I am not only inspired by the colors/texture in nature but also the sense of peace that I feel when I am there. It allows my mind to wander to other places.
WE ARE VERY FORTUNATE TO TRAVEL THE WORLD WITH OUR JOB, WHAT HAS BEEN YOUR FAVORITE PLACE THAT WORK HAS TAKEN YOU AND WHY?
I have travelled to incredible countries all over the world which I have enjoyed immensely. What makes travelling for work special for me, hands down, is the team of people that I am travelling with.
WHAT IS THE MOST UNUSUAL PRODUCT OR TOOL THAT YOU CARRY IN YOUR KIT AND WHAT IS ITS USAGE?
A toothbrush, I dip it in paint and flick it with my finger to create irregular freckles.
SALLY BRANKA BIO
British born makeup artist Sally Branka, now based in NYC, is one of the most sought after in the industry, collaborating with noted photographers Peter Lindberg, Josh Olins, Paolo Roversi, Christian MacDonald and Greg Harris to name a few. She regularly contributes to Vogue (French, British, Italian, China, US, Japan & Teen), i-D, Interview, V, Last, Self Service and WSJ magazines. Sally's effortless and unassuming nature on set is mirrored in her work, the result, flawless beauty executed to perfection.

Go follow her work on Instagram @sallybranka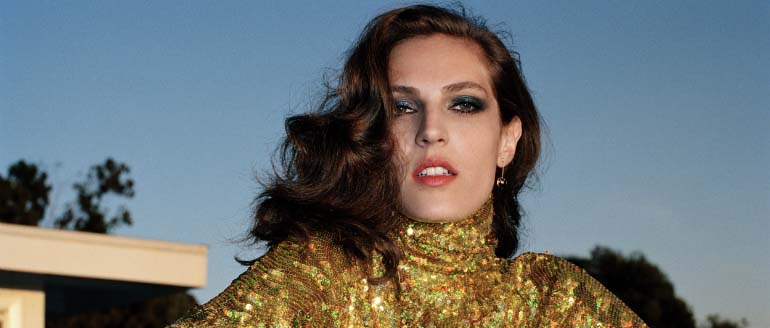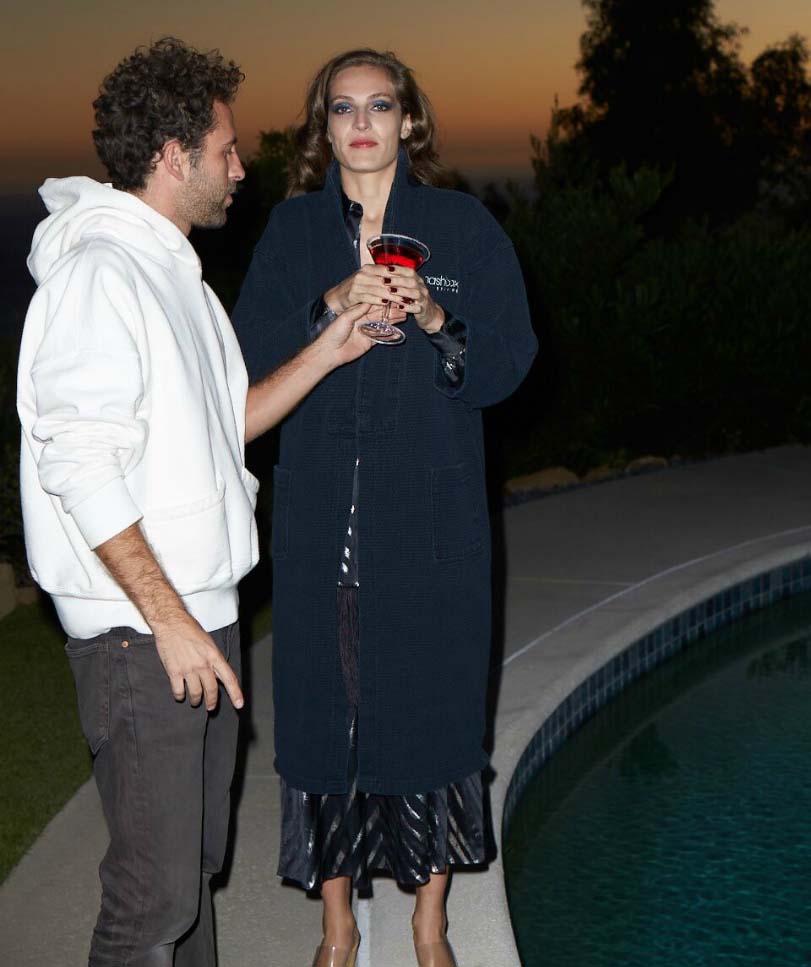 STORIES
BEHIND THE EDITORIAL
Meet Setdesigner Maxim Jezek
Max is creative to the bones and set design is just one of his many great talents. He creates through many genres and always brings a fun loving charm to set, even when jet lagged from his constant bi coastal demands.
HOW DID YOU GET INTO SET DESIGN?
Well I kind of stumbled into it; my background is fine art. While I was studying sculpture in NYC, I was working fabricating sculpture for a couple different artists. Post school I had intended to keep up the fabrication gigs in order to supplement my own studio practice, but by the time I left school, the economy took a turn, and so did the work. A few months later, a friend got me a few days of work on a set. Because I liked to work with my hands, and appreciated aesthetics, the transition into Set Design made a lot of sense. I've been doing it since.
I SHARED A LOFT IN NEW YORK WITH A SET DESIGNER FOR 10 YEARS, IT WAS AN EVER-CHANGING SCENERY OF CURIOSITIES. WHAT IS YOUR PROCESS OF SOURCING FOR SHOOTS – IS IT CONTINUOUS OR DO YOU WORK ISOLATED ON EACH JOB? ARE YOU A COLLECTOR?
For me it is continuous, but my interests are also constantly changing. Growing up, my father was an architect and my mother was a ceramicist, so I often found myself around unique tools, materials, and objects. I think this informed my work in a lot of ways: I am very inspired by moments that treat a material, or incorporate an object, in an unexpected way. There can be a lot of beauty in moments like this. And when it happens on a photoshoot: when a group gets together, each person with their own unique understanding of "their material" (light; clothing; hair; makeup; a set or a prop), and we manage to accomplish something unexpected— that can be quite remarkable. To me, that is this job at its best.
CONTRARY TO MANY PEOPLES' BELIEFS, EDITORIAL SHOOTS ENTAIL A LOT OF COST FOR EVERYBODY INVOLVED, AS THE MOST PRESTIGIOUS MAGAZINES MOST OFTEN DO NOT HAVE BUDGETS. HOW DO YOU CHOOSE WHICH KUDOS PROJECTS TO DO IN ORDER TO SHOWCASE WHAT YOU DO?
Yes, this is indeed true. The thing is that these editorials tend to be the more creatively engaging projects. So, it is certainly a push and pull; the editorials help us to continually build a relevant and strong body of work, which in turn might garner positive interest in your career, which in turn (in theory) leads to more commercial work. Then these more commercial jobs afford us the ability to take on more editorials. It is important then, that the editorials you take on be worth it— I think that all depends on creative direction and the team. A strong team or a strong creative direction, usually lets me know if it is something I want to be a part of.
WHAT ARE THE MOST HILARIOUS, THE COOLEST, MOST DIFFICULTS SETS YOU HAVE BEEN ASKED TO DO?
One time we had to build a 7-inch-deep pool of water, that would be about 20 feet in diameter, on a very slanted roof of an abandoned 15 floor building without letting any water dripping onto the roof itself. The point of it all, was to create a nice water reflection of the horizon line— we nailed it. Of course, in the final image it just looks like a simple puddle.
MAXIM JEZEK BIO
Maxim Jezek is a Los Angeles and New York based set designer. Born in LA, he is the son of two Czech immigrants; an architect and a ceramicist. To pursue an education in fine art, he moved to New York City. After receiving a degree in Sculpture from NYU, he began working as an art fabricator for 4 years. With an awareness of aesthetics, space, materials, and architecture, his transition to a set designer and prop stylist was a smooth one. He has now been working in set design for 8 years, between Los Angeles, New York, and abroad. Maxim's clients include Aritzia, Adidas, Galaxy, HP, IZod, H&M, Lacoste, Luminox, Macy's, Pal Zileri, Prabal Gurung, Sony, Ulla Johnson, Urban Decay. Publications: In Style, L'Officiel, T Magazine. He has been working with renowned photographers such as Axel Lindahl, Ben Hassett, Dan Martensen, Gemma Booth, Ithai Schori, Jacqueline de Milia, Jacob Sutton, Jared Zagha, Justin Carrasquillo, Karim Sadli, Oscar Falk, Paul Wetherell, Radical Friend and Soraya Zaman.
Go follow his work on Instagram @maximjezek
STORIES
BEHIND THE EDITORIAL
Meet model Luna Bijl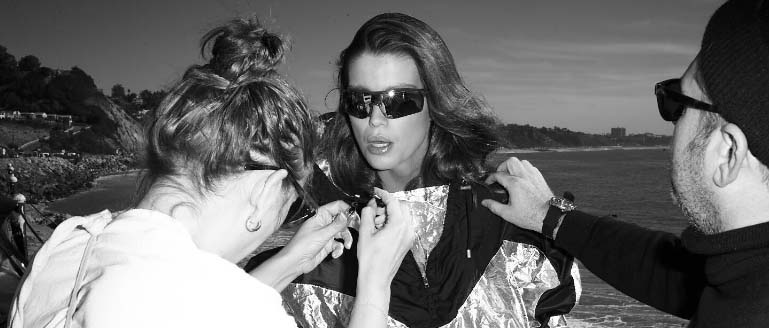 Last but not least is the lovely Dutch energy bomb and catwalk cruncher, model Luna Bijl.
YOU ALWAYS SEEM TO BE BOPPING YOUR HEAD TO SOME GREAT TUNES. PLEASE GIVE ME YOUR TOP 5 SONGS THAT "NOBODY KNOWS"?
To be honest I don't know my top 5 songs. I listen to music that range from reggae, hip hop, Latin, rock… to everything. I must say that old music really touches me! But it all depends on my mood. When I am home I listen to reggae. When I travel, I listen to indie or house, when I am training I listen to hip hop and when I dance I listen to Latin!
SINCE STARTING AS A MODEL, WHAT HAS BEEN YOUR MOST AMAZING EXPERIENCE?
I went to Hawaii when I was 18 just for one day but I enjoyed every minute! I was shooting with Landon Mcnamara who is a surfer and musician. Hawaii is so beautiful and I love the lifestyle there. I had one of the best day of my life.
APART FROM HOLLAND OF COURSE, WHAT IS YOUR FAVORITE PLACE IN THE WORLD AND WHY?
Well I think Hawaii. But I also really love Mexico, I shot there twice and I have such amazing memories from there. I was in Cabo, there is so much to see and to do. I would love to go back one day!
LUNA BIJL BIO
Luna Bijl is a Dutch model born in 1998. She has been the first model to have graced two Vogue Paris covers in just one year, both shot by David Sims and styled by Emanuelle Alt. She has also been on the cover of respected magazines such as I-D, Self Service, W Magazine and British Vogue. Moreover, she has been the face of legendary brands such as Chanel, Diane Von Furstenberg, Chloé and Net-A-Porter. During Fashion Week, she is a busy bee walking the runways of Miu Miu, Chanel, Tommy Hilfiger, Stella McCartney, Isabel Marant, Mochino, Balmain and Cavalli, to name a few. She grew up in the countryside of Holland and she is not afraid to get her hands dirty – motocross has always been a big passion for her and she enjoys the contrast from the world of modelling.

Go follow her work on Instagram @mxlunaa